I just finished a delicious and filling meal of Paneer Tikka Masala with Poori. The Paneer was just one of the many frozen selections at Byerly's, but I decided to make the Poori myself. I don't really like rice; besides, bread is a better choice for that entree. But can I make Poori like they do at Udupi Cafe? I decided to give it a try. I've learned--oh, how I've learned!--not to trust every recipe I come across online, so I searched a dozen sites and came up with my own recipe for 4 pieces of Poori:
~1 cup flour
Pinch each salt & sugar
Dash each ground coriander, cumin, & cayenne pepper
Enough warm water to make a hard dough
I let the dough rest, covered, for 15 minutes then formed it into ping pong ball-sized pieces. Rolled each ball out to about 1/8", then slid into a wok filled with a 1:1 ratio of vegetable and olive oils. The Poori will try to float to the top, but you have to hold them down with a slotted spoon. This is what makes them puff up. Fried them for about a minute on each side, until they were golden brown.
The result was pure Indian magic!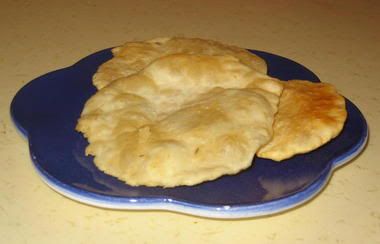 Is it as good as Udupi? No, but nothing is as good as Udupi. This was my first adventure in Indian cooking (albeit a pretty effortless one), but I feel confident enough to make entrees now. I live just blocks away from Patel Groceries, which is said to be the largest Indian grocery store in the Twin Cities. I'll head down there and poke around once I find a reliable source for recipes.

I woke up with a nasty cold on Thursday, so I'm trying to take it easy while my body beats the crap out of this thing. Tonight's entertainment: A Fistful of Dollars. I have friends who don't understand my penchant for spaghetti westerns, and I guess I can't really explain it, either. I like kung-fu movies okay, but give me Clint Eastwood over Bruce Lee any day. Plus, Clint's the only person who has ever made a poncho look good. Ever.