Ask and you shall receive.
Props to Girl Friday reader Scott for the tip on the black and purple Sorel Torinos at Rosedale Herberger's. They were even on sale, so I'm now a proud owner and a happy customer. If you've seen me in the last two weeks, there's a 95% chance I was wearing them.
Then, lo and behold, a gift in the form of a pair of Sorel Tivolis on brown and blue show up at my doorstep not even a week later.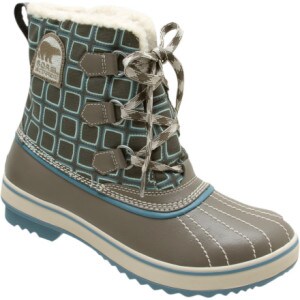 Hot.
I am so set for the rest of this winter, and however many more winters these boots last. I'm loving their waterproof feature, especially after last week's warm-up and subsequent slush-fest. Both pairs are incredibly comfortable and warm, with a fairly skid-proof sole. The brown Tivolis have one small design flaw: they bunch a little when you put your foot in so you have to tug on them a bit before you head out the door. A small problem, but they're still cute as hell.
A useful thread over at Livejournal: Where to send your old clothes that aren't in good enough shape for resale or thrift store donation but can be salvaged for their fabric.
This Friday and Saturday only, Northeast consignment boutique gh2 is having a 50% off sale. gh2 stocks top designer clothing, shoes and accessories, so it goes without saying that I rarely see fewer than 10 things I want every time I stop in.
Next door to gh2, Parc Boutique continues their winter clearance, with 30-80% off. That sale started the first week of January, so the best of the best is probably gone, but it's still worth a look if you swing by gh2.
Vita.mn's third annual Hotness party is Wednesday, February 10th, so suit up sexy! We're at the Graves 601 this year, and there will be free hors d'oeuvres, drink specials, giveaways, live performances and DJs. As always, this event is free.