Here's a great link I found over on Reetsy's blog.

The 3/50 Project has a simple plan: to get you to spend a total of $50 at 3 local businesses every month. The website quotes the U.S. Department of Labor by saying that "if half the employed population spent $50 each month in locally-owned independent businesses, it would generate more than $42.6 billion in revenue. Imagine the positive impact if 3/4 of the population did that." Learn more by clicking on the badge, and don't forget to spend locally.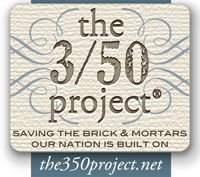 Speaking of keeping it in the 'hood and saving our (and our nation's) money: Azia has lowered the prices on several menu items. Various entrees are $3-5 less (for example, shrimp pad thai is $18.95, down from $23.95), while the twice daily happy hour remains the same (select sushi and appetizers are $4.95, with crazy drink specials).
Thom also pulled a couple more of Temple's popular items to Azia, as well. In addition to the squash dumplings which have been on the menu since last year, you can now order the Kobe beef burger (sweet potato fries, aioli) and the Singapore noodles (yellow curry, choice of protein). There's also a new vegetarian appetizer option: crispy sweet potato rolls with mushrooms and bean thread noodles. And now fried rice! I guess Thom finally got tired of being asked why it's not on the menu.